Gaia Announces Pricing of Underwritten Public Offering of Common Stock
BOULDER, Colo., Oct. 03, 2023 (GLOBE NEWSWIRE) -- Gaia, Inc. (NASDAQ: GAIA), a conscious media and community company, today announced the pricing of its underwritten public offering of 1,855,000 shares of its Class A common stock ("common stock"), at a price to the public of $2.70 per share. The gross proceeds to the Company from the offering, before deducting the underwriting discounts and commissions and other offering expenses, are expected to be approximately $5.0 million. In connection with the offering, the Company also granted the underwriter a 30-day option to purchase up to an additional 278,250 shares of its common stock at the public offering price, less the underwriting discounts and commissions. The offering is expected to close on October 5, 2023, subject to customary closing conditions.

The Company intends to use the net proceeds from this offering for general corporate purposes, which may include additions to working capital, financing of capital expenditures, repayment of indebtedness, acquisitions and strategic investment opportunities.
Lake Street Capital Markets, LLC is acting as sole book-running manager for the offering.
The securities are being offered by the Company pursuant to a "shelf" registration statement on Form S-3, including a base prospectus, previously filed with the Securities and Exchange Commission (the "SEC"), and declared effective by the SEC. The offering will be made only by means of a prospectus, including a prospectus supplement, forming a part of the effective registration statement. A final prospectus supplement and accompanying prospectus relating to the securities being offered will be filed with the SEC. Copies of the final prospectus supplement and accompanying base prospectus may be obtained, when available, for free by visiting EDGAR on the SEC's website at www.sec.gov. Alternatively, copies of the prospectus and prospectus supplement relating to the offering may be obtained by contacting: Lake Street Capital Markets, LLC, Attn: Syndicate Department, 920 Second Avenue South, Suite 700, Minneapolis, MN 55402, by calling (612) 326-1305, or by emailing syndicate@lakestreetcm.com.
This press release shall not constitute an offer to sell or a solicitation of an offer to buy these securities, nor shall there be any offer or sale of these securities in any state or jurisdiction in which such offer, solicitation or sale would be unlawful prior to the registration or qualification under the securities laws of any such state or jurisdiction.
About Gaia 
Gaia is a member-supported global video streaming service and community that produces and curates conscious media through four primary channels—Seeking Truth, Transformation, Alternative Healing and Yoga—in four languages (English, Spanish, French and German) to its members in 185 countries. Gaia's library includes over 10,000 titles, over 85% of which is exclusive to Gaia, and approximately 75% of viewership is generated by content produced or owned by Gaia. Gaia is available on Apple TV, iOS, Android, Roku, Chromecast, and sold through Amazon Prime Video and Comcast Xfinity. 

Forward-Looking Statements
This press release contains forward-looking statements within the meaning of the federal securities laws. All statements other than statements of historical fact are forward looking statements that involve risks and uncertainties. When used in this discussion, we intend the words "anticipate," "believe," "contemplate," "continue," "could," "estimate," "expect," "future," "hope," "intend," "may," "might," "objective," "ongoing," "plan," "potential," "predict," "project," "should," "strive," "target," "will," "would" and similar expressions as they relate to us to identify such forward-looking statements. Our actual results could differ materially from the results anticipated in these forward-looking statements as a result of certain factors set forth under "Risk Factors" and elsewhere in our filings with the U.S. Securities and Exchange Commission, including in our Annual Report on Form 10-K for the year ended December 31, 2022. Risks and uncertainties that could cause actual results to differ include, without limitation: our ability to attract new members and retain existing members; our ability to compete effectively, including for customer engagement with different modes of entertainment; maintenance and expansion of devise platforms for steaming; fluctuation in customer usage of our service; fluctuations in quarterly operating results; service disruptions; production risks; general economic conditions; future losses; loss of key personnel; price changes; brand reputation; acquisitions; new initiatives we undertake; security and information systems; legal liability for website content; failure of third parties to provide adequate service; future internet-related taxes; our founder's control of us; litigation; consumer trends; the effect of government regulation and programs; the impact of public health threats, including the coronavirus (COVID-19) pandemic and our response to it; and other risks and uncertainties included in our filings with the Securities and Exchange Commission. We caution you that no forward-looking statement is a guarantee of future performance, and you should not place undue reliance on these forward-looking statements which reflect our views only as of the date of this press release. We undertake no obligation to update any forward-looking information.
Company Contact:
Ned Preston
Chief Financial Officer
Gaia, Inc.
Investors@gaia.com 
Investor Relations:
Gateway Group, Inc.
Cody Slach
(949) 574-3860
GAIA@gateway-grp.com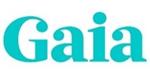 Source: Gaia, Inc.

Released October 3, 2023